MT4 is one of the most versatile trading platforms in the market – little surprise that it has become the industry standard, used by over 70% of all online traders. After downloading the program, you will need to open a demo account with an online broker and enter your account number and password to access the platform's features.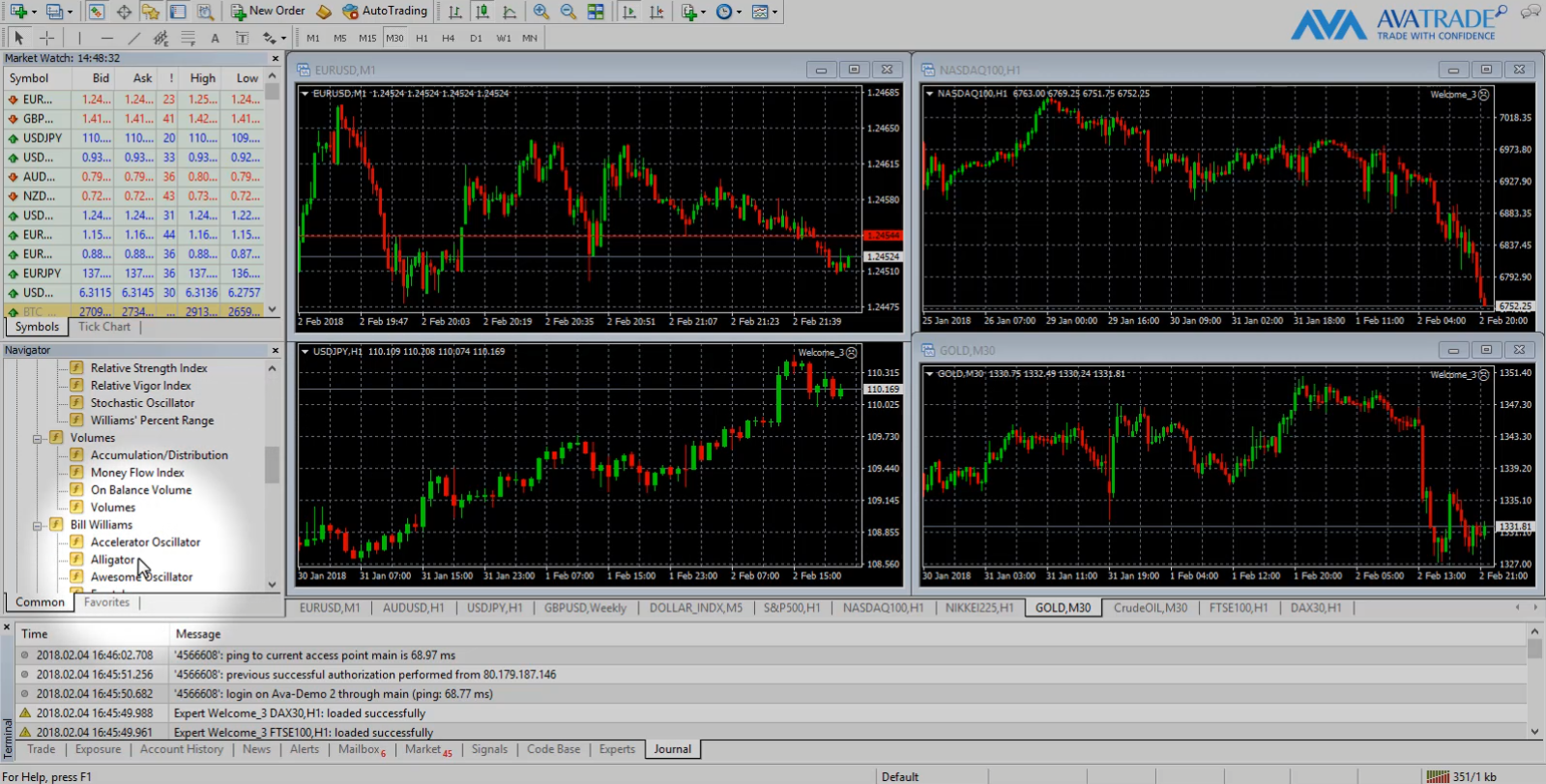 Once open and running, you will see that the MT4 screen is divided into 4 main sections: the Navigator, which lets you select your accounts, and indicators, expert advisers and scripts – all which are there to assist in technical analysis and automated trading. Since there are so many, you can see your favorites here in the favorites tab. Next, the Market Watch window. That's where all the assets are. Each asset displays its current bid and ask price – that's for opening buy or sell positions – and the day's highs and lows. If you don't see enough, right click and select SHOW ALL. You can also open the symbols window with a right click and see the assets based on their class. Select an asset and click on the tick chart tab down here and you'll see the asset's value changing in real time. Right click on the asset to open a chart window or open a position in any number of ways. The position window ALSO displays the bid and ask prices.
On the charts window you can see as many charts as you like, enlarge one to full screen, and click through them using their respective tabs at the bottom. Again, right click on the chart to open a position. On the main menu you can use the window tab to change the charts layout. Now, while on the chart, we can select a bars display, line or – my favorite –  candlesticks. We can select our period display – all the way from 1-minute candles to 1-month; and we can zoom in or out. We can draw on it, add indicators and oscillators, and more.
Finally, at the bottom is the multi-functional terminal window. The first and most important tab is the Trade tab, where you can see all of your open and pending positions. Exposure tells you what your balance and equity are, your used margin and free margin, which constantly change in line with the profit and loss on each open position. Account history is where you will find all of your closed positions – each with its historical chart and outcome. Here, you can set up alerts for assets hitting price levels and so forth. Under the market tab you'll find a whole slew of indicators, robots and trading systems that you can implement into the platform. Under code base you'll find codes – also to be downloaded and implemented. And journal is a recorder of all the activities taken within the platform.