AvaAcademy - Enrich Your Trading
Knowledge to
Almost two dozen Online Trading Courses, 150 lessons, 50 quizzes


Fill in your details and get immediate access to a world of financial knowledge


Choose your level, pick a topic that interests you and follow the pre-set curriculums


Watch videos, explore articles and tutorials, take quizzes and practice all you've learned to enhance your trading skills.
Work your way through courses on all aspects of trading, complete quizzes at the end of each level to test your knowledge and practice the newly learned materials in real-time trading simulator. Learn how, when and what to trade.
Let The Numbers Do The Talking
18
Professional Trading
Courses
50
Quizes to Check
Your Knowledge
People Say The Nicest Things
Jason Kelly
"I literally came to AvaAcademy with no clue about trading. I've learnt so much (for free!) and feel really confident about trading now. Thanks Ava!"
Carol Schwartz
"I knew the basics of trading, but I didn't understand the important of things like technical analysis, Stop-Loss and Take Profit orders. AvaAcademy, you have given me the gift of knowledge. Much appreciated"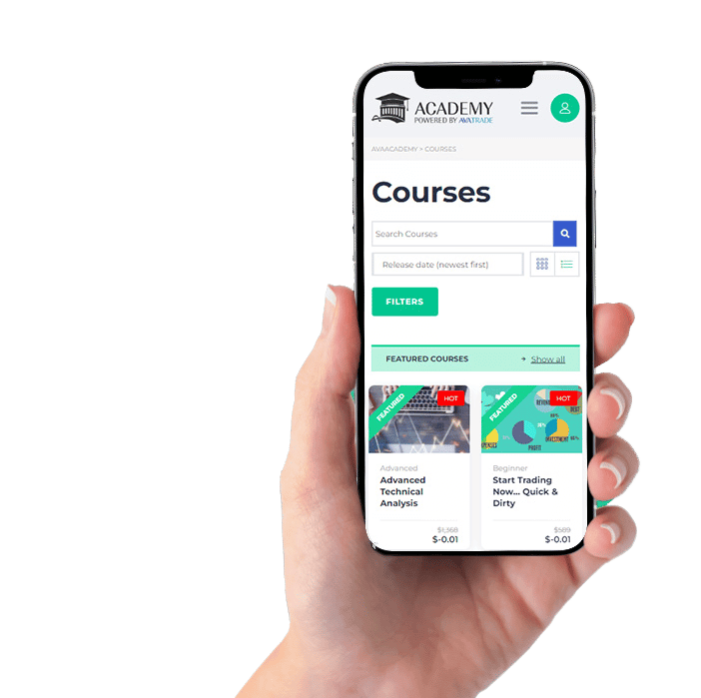 A World of Knowledge in The Palm of Your Hand!
With the AvaAcademy mobile version you can continue learning as you travel, work or even take a bath (but don't drop the phone!). All you need is a mobile device and an open mind!
It's time to

start

investing in yourself
Ava Academy online courses open the opportunity for learning to any trader regardless of his/her level or scheduling commitments